« Back to News & Notices
2017 Water System of the Year
Alligator Rural Water and Sewer Company
Awarded
Rural Water Association "WATER SYSTEM OF THE YEAR" for 2017.
Alligator Rural Water & Sewer Company, Inc. was awarded the "water system of the year" award by the South Carolina Rural Water Association at its annual conference in Myrtle Beach on Wednesday December the 6th. Alligator was chosen from all the water systems in South Carolina for this prestigious award.
Alligator's system was established in 1987 and was funded by Rural Development, a division of U.S. Dept. of Agriculture. Since 1991, Alligator has received over $70,000,000.00 in grants and loans from state and federal agencies to provide water and sewer services to its service area. In addition to serving customers in the Alligator service area, Chesterfield County Rural Water Company, Inc formed a partnership with Alligator to provide an unlimited quality water supply to 85% of Chesterfield County, including the towns of Jefferson, Pageland , Chesterfield, Ruby and Mt.Croghan. The partnership developed with CCRW'S manager Charlie Gray and his board has proved beneficial to the entire county.
Alligator's water system is located in the southern section of Chesterfield County and consists of 9 deep wells and 450 miles of water line, 6 elevated storage tanks, and a granular activated carbon filtering plant that further enhances the quality water obtained from the Middendorf aquifer.
As we celebrate our 30th year in business, we the board of directors and employees are proud to receive this award for the second time in 14 years.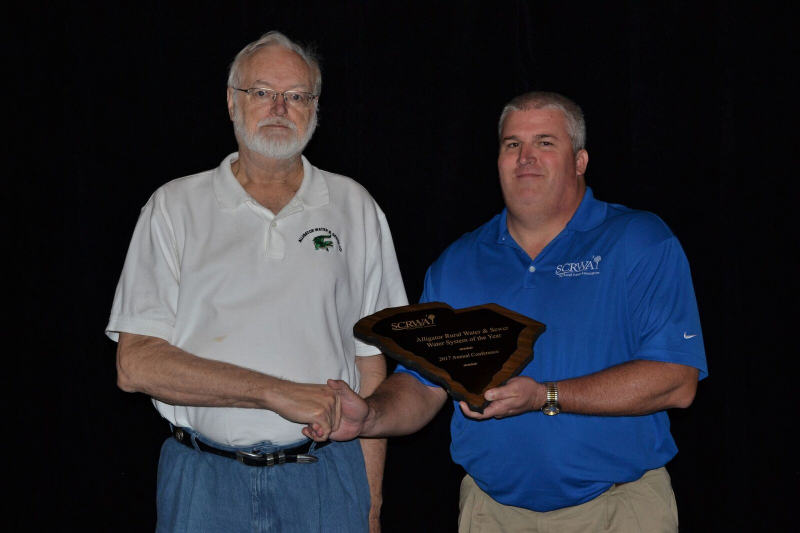 Pictured above from left to right; Glenn Odom - Manager of Alligator Rural Water & Sewer. Stephen White- President of South Carolina Rural Water Association.